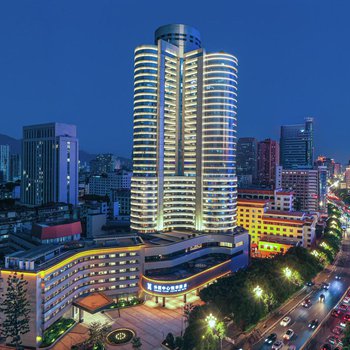 Foreign Trade Centre C&D hotel, which is located in the centre of Fuzhou city, possesses natural and various resources of hot spring. The Hotel has a total of 340 elegant rooms and suites. Guests can enjoy a brand-new living experience.
The hotel has more than 300 sets of exquisite guest rooms, which can meet the needs of different travelers. Perfect supporting facilities build an elegant and comfortable world for guests. From the morning of the next day to xiushifang borderless food show, start with the ingenious buffet breakfast to awaken your sleeping taste buds. Select fresh ingredients and match them with balanced nutrition to provide unique local traditional snacks in Fuzhou.
Four unique catering places present delicacies for guests with innovative cooking methods. Xiushifang borderless food show focuses on delicious seafood and features cooking techniques in different regions to provide diners with different borderless seafood cuisine. Hefeng Chinese restaurant focuses on the new style of Fujian cuisine. Adhering to the concept of "pure and beautiful original flavor of Fujian", guests can enjoy the essence of Fujian cuisine and enjoy the delicious dishes. The lobby lounge provides coffee, tea and special drinks with all kinds of snacks. It is an excellent place for business negotiation and leisure. The bakery is carefully processed by dessert masters who have worked for 20 years. Each dessert is carved as a work of art, so that you can start with your appearance and fall into flavor.